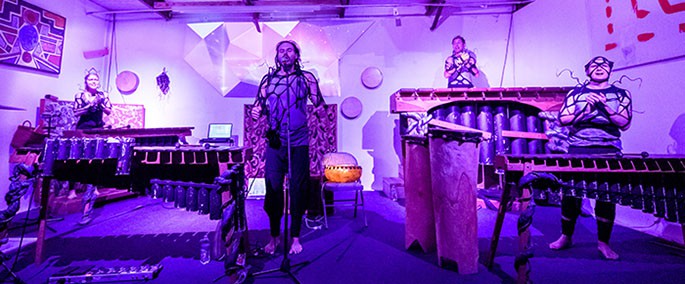 Rattletree recently completed the first leg of their critically acclaimed performance installation "The Earth Loves You".
The event culminated in five performances over three days at their own intimate performance space in Austin, TX.  Attendance was strictly capped at 100 people per performance in order to allow all members of the audience to be able to fully experience the event.
"The Earth Loves You" was funded by the City of Austin Cultural Arts Department and gave Rattletree the opportunity to work with some of the finest creative artists in Texas-including Dale Whistler who built the stage design, Corey White creating cutting edge interactive video projection mapping, and Echo Higuchi designing the costumes.
"The Earth Loves You" has completed it's 2015 run, but the band has already begun work on the next upcoming series for 2016. Get on the email list to stay informed about the upcoming dates.
Come and say hello to Rattletree online: Twitter | Facebook | Instagram