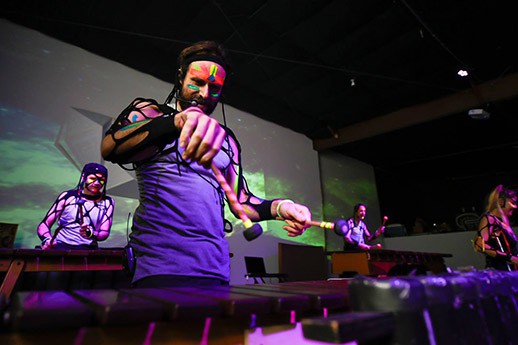 Press Highlights:
---
Rattletree brings some "Uplifting world vibes!"
-KUTX 98.9 – tweet during SXSW 2017
We always love it when Rattletree plays Empire. We're big fans! Rattletree is one of ATX's most UNIQUE sounds, blending electronic music with traditional music of Zimbabwe! Get ready to DANCE.
-Empire Control Room & Garage for SXSW Party
"One of my favorite CDs at CD Baby"
-Derek Sivers, founder of CD Baby
Big Big Big Old Marimbas…high-octane posse of marimba magicians…Rhythmic trance music…you cannot hear this music and not be dancing – John Aielli, KUTX
…keeping the Shona music movement alive and growing in the Southwest!
-Banning Eyre, Afropop Worldwide
Rattletree is a "must see". They are a high energy fusion of African and other world influences that is immediately accessible, and rousing.
-David Courtney, "Music beyond Borders", KPFT Houston 90.1 FM
I AM totally amazed at the size of their Marimbas!! WOW -it's almost Surreal ~ you've really got to see this!!! The sounds are Amazing & So Much fun to dance with!
-Sydney Strahan, facilitator-Houston Ecstatic Dance
A Central Market favorite!!
– Sean Hopper, Central Market Austin Music/Events
It was a sight to see and a unique joy to hear!
-Tad Hendrickson, Global Rhythms Magazine
Talking to Joel Laviolette is like listening to World music while reading National Geographic…
-Carson Barker, Austin Music Magazine
Marimba and electronica may not be musical terms associated with one another, but Rattletree Marimba, based in Austin, has earned a reputation for fusing giant, hand-made mallet percussion instruments with hypnotic grooves that make you want to get up and dance.
-Joel Luks, CultureMap Houston
---
Awards:
Member of the Texas Commission on the Arts (TCA) Touring Roster.
Recipient of the Enjoy Texas Music Grant (received four times)
Recipient of state grant to build marimbas for the Texas School for the Blind
Selected Performance Highlights:
Austin City Limits (ACL) Festival
Austin International Awards
Art Outside
Austin Yoga Festival
Addison Worldfest
Blissfest
Boulder Theater
Brazos Valley Worldfest
Creek Show Festival Closing Party
Fader Fort
HAAM Day featured band
KUTX Mapjam
KUTX – Live at the Four Seasons
Levitt Pavillion
Levitt Shell Amphitheater
Mr. Greenheart's Treehouse pilot episode – performance and demonstration
The Long Center
Luminaria Festival (invited to be site installation) 2010-2016
Make Magazine Maker Faire
Official SXSW Showcases 2008-2017
PASIC performance, workshop, and panel Discussion
Houston PBS (The Artery)
Texas Yoga Festival
Wolf Pen Creek Amphitheater
Zimbabwe Music Festival
and many more…see full list of past performances
Selected University Highlights:
Colorado State University-Performance and workshops
PASIC performance, workshop, and panel Discussion
Prague, Czech Republic – guest clinician
Sam Houston State University-Performance and workshops
SMU McFarlin Auditorium-Performance
Tarleton State University-Performance and workshop
Texas A&M University
Texas State University – performance and workshop
Tulane University – workshop
University of Gottingen, Germany – lecture and performance
University of New Mexico-performance
University of Texas at Austin – performance
Rattletree on the Radio
Interview on NPR-
http://weekendamerica.publicradio.org/display/web/2008/06/26/mbira_america/
Rattletree "Song of the day":
http://kutx.org/song-of-the-day/joel-laviolette-rattletree-marimba-joy
Rattletree live on KUT- 07/21/11
http://kut.org/2011/07/rattletree-marimba-in-studio-1a-72011-11am/
Rattletree live on KUT- 07/22/10
http://kut.org/2010/07/rattletree-marimba-live-july-22-2010/
Rattletree on KUT's Austin Music Minute-
http://edit.kut.org/sounds/blog_00008808/AMM_June_22.mp3
Soundscape: Marimba in the Dining room-recorded for KUT Austin-
http://kut.org/2007/04/soundscape-marimba-in-the-dining-room/
Live performance on KOOP's "World Beat" show
Featured on WWOZ, New Orleans.
Rattletree on KVRX, Austin
Featured on KPFT, Houston "Music Beyond Borders"
Interview on KAMU 90.9 College Station
Rattletree in Print
Dallas Observer Critics Pick
Quotes
Rattletree was the perfect pick to kick-off our civic engagement project on campus. The musicians were engaging and extremely talented. The band's music appealed across generational and cultural divides, and they even got a bunch of timid college students out of their seats and on the dance floor.
-Kelli Arena, Executive Director of the Global Center for Journalism and Democracy.
Sam Houston State University
…keeping the Shona music movement alive and growing in the Southwest!
-Banning Eyre, Afropop Worldwide
Rattletree is a "must see". They are a high energy fusion of African and other world influences that is immediately accessible, and rousing.
-David Courtney, "Music beyond Borders", KPFT Houston 90.1 FM
You don't have to be booked at the festival to make an impact. Rattletree had dozens of fest-goers dancing on Barton Springs Road both Friday and Saturday nights. Look for a big turnout when the impressively melodic collective plays…
-Michael Corcoran, Austin360
Rattletree is authentic Zimbabwean marimba with a twist. It's impossible to resist the African beat commanding you to move along with the energetic music.
-Wendy Wever-Austin Daze Magazine
The more I listened to Chamukwenjere the wider my frequencies became, which means that I could go to higher planes of existence. The song is a vehicle to higher astral realm. It is simply beyond words.
-Ambuya Stella Chiweshe-Zimbabwean Musician (Piranha Records)
Our members are still talking about how much they enjoyed the fun, high-energy music.
Joanna Wolaver
-Shoal Creek Conservancy
"Rattletree was a hit!"
-Tracy L. P. Private 50th birthday celebration
I AM totally amazed at the size of their Marimbas!! WOW -it's almost Surreal ~ you've really got to see this!!! The sounds are Amazing & So Much fun to dance with!
-Sydney Strahan, facilitator-Houston Ecstatic Dance
…if you happen to be at one of their shows and you're not dancing/grooving in some way, there's no hope for you, you're already dead!
-found on an online blog describing show at Revolution (College Station, TX)
Rattletree's marimba demonstrations provided the perfect musical backdrop to our International Marketplace! Their inviting attitude about the marimbas helped students provide their own soundtrack to the event.
-Peter Borrebach, Administrative Coordinator Global Initiatives, St. Edwards University
I was extremely impressed with the craftsmanship of the marimbas! The show was mesmerizing. The music was so beautiful and hypnotic, most people couldn't stop dancing and they were fabulous to watch. Looking forward to another show!!
-Hannah Williams, Austin Musician
I've heard all the best players of Zimbabwean music for over 20 years, and Joel Laviolette is a serious chain in the link of it's continuity.
-Ralph White, Austin Musician
Fabulous sounds. Fascinating seeing these lily white guys sing and play African music with as much passion and talent as if they were from the continent.
-A'Muse Media, Houston