Moving the Ancient Forward-behind the scenes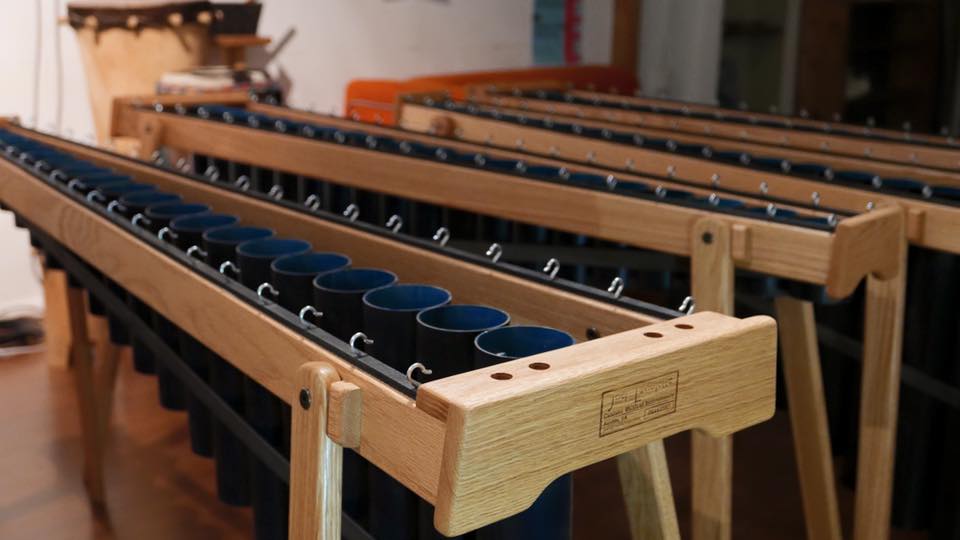 We are hard at work creating fun new elements for the upcoming show, "Moving the Ancient Forward"!
"Moving the Ancient Forward" is new a highly interactive performance piece that showcases original electronic African music played on giant hand-built marimbas (wooden xylophones) by the group Rattletree, lead by Joel Laviolette. It incorporates biometric sensors, sculptural set design, mysterious costumes, and live video projection mapping.
Using motion and pressure sensors installed throughout the performance space, many aspects of the performance, including lighting elements, sound textures, and projected images are able to be directly manipulated by the audience while the performance is happening. With these technologies, the audience is an integral part of each performance, breaking down the perceived barrier between audience and artist. Each performance will be unique and something that everyone participating will be able to feel like they had an essential role in creating.
The show will be performed 5 times thanks to the generous support of the City of Austin Cultural Arts Division.
Check out this video showcasing some of the technology we are working on bringing to you:
[fbvideo link="https://www.facebook.com/rattletree/videos/10153870891133524/" width="500″ height="400″ onlyvideo="1″]
Come and say hello to Rattletree online: Twitter | Facebook | Instagram