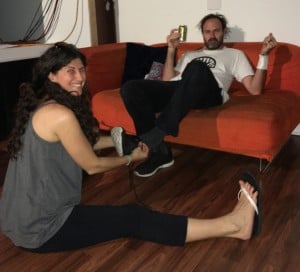 Sometimes AC units just happen to fall on top of you – leaving you bruised, bloodied, defeated, and still uncomfortably warm only hours before a gig.  But, as Joel quickly realized last Thursday afternoon when he had such a fateful run-in, there is nothing that some gauze, medical tape, La Croix, and a little help from friends and loved ones can't fix (or at least temporarily stop the bleeding of).
With his wrist bandaged and his shoes all tied, Joel was able to grin and bear it through our Hurst Masterworks Concert at the beautiful Hurst Public Library in Dallas.  We played for a very enthusiastic crowd of younger and older folks.  The show was particularly special for a young family in the audience: the wife and husband saw Rattletree perform years ago while on their first date; this show was their first time seeing Rattletree since that auspicious appointment – an experience that they were now able to share with their son!  After a run of shorter sets at the AIM Music Festival and SXSW the past couple of months, it was great to be able to play the full Rattletree show complete with lights and video projection one last time.  Wait, what?  One last time?  That's right y'all – we are going to be adding some new tunes!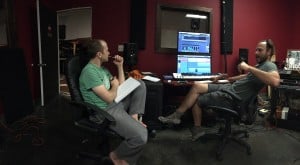 Over the past several months, Joel has been hard at work really dialing in his production skills and delving deeper and deeper into the mad modular synth world.  Let me just say that we are all really excited about the heightened levels of textural complexity, rhythmic nuance, and overall intensified sense of sonic emplacement that Joel has been able to elicit with his recent explorations.  Exploration seems to be an apt description of how we are approaching this new material.  The marimbas are no longer the assumed mode of acoustic production – with the serious expansion of our digitally-produced sonic palette, we are being pushed to discover what sounds we can create live to best amplify and are best amplified by the digital tracks-the distinction of the marimbas and the synths is being blurred…sometimes it's hard for us to tell what sounds we are creating with the marimbas and what sounds are being synthesized.  We are excited to see where these new sounds take us!  Stay tuned for some sonic morsels soon!